Stainless steel migration cell Sieg-Mi-Flex
Stainless steel migration cells are the most commonly used
temperature resistance -15 °C to 180 °C
pressure tight up to 9 bar
may be fit with 1 or 2 specimen
fit with 1 specimen – horizontal storage
fit with 2 specimen top/bottom – vertical storage
---
suitable for the following simulants:
(A) Ethanol 10 % Vol.
(B) Acetic acid 20 % weight.
(C) Ethanol 20 % Vol.
(D1) Ethanol 50 % Vol.
(D2) vegetable oil with certain fatty acid distribution from EU Regulation 10/2011 PIM
Replacement simulants:
According to EN1186 and Regulation 97/48/EG replacement simulants which do not chemically react with stainless steel  (V4A 1.4571), PTFE and FEP – eg. isoctane and ethanol 95% vol. may be used.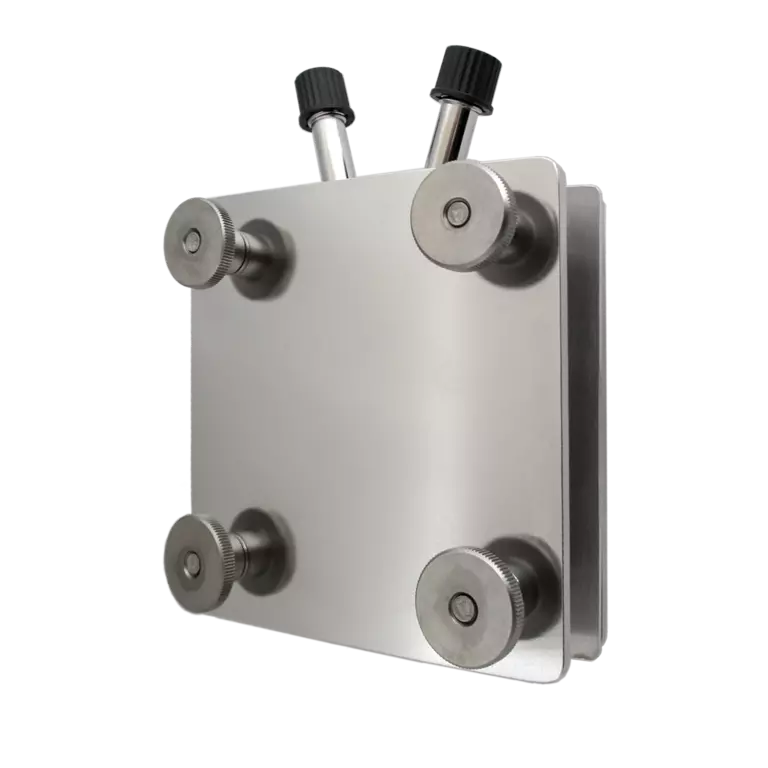 The migration cell Sieg-Mi-Flex consists of a stainless steel  fixing plate kit and central ring matching the application in question.
Stainless steel fixing plate
Kit 8LZ250-0239899
2 Stainless steel plates (VA 1.4571) with orifices, inner surface polished, 140 x 140 mm
4 Threaded bolts M8, stainless steel (VA 1.4571), length 66.5 mm
4 Knurled nuts M8, stainless steel
4 Threaded levelling feet, white PTFE M8
4 Washers Sieg-Mi-Flex, stainless steel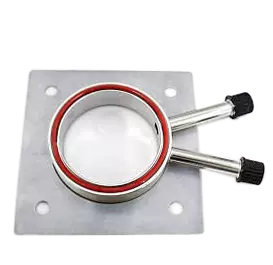 Stainless steel central ring
1 Stainless steel central ring (VA 1.4571), pouring spout with GL14 thread
2 FEP/Silicone O-rings for central ring nut, top/bottom
2 Screw caps with silicone/PTFE septum to close pouring spouts
1 Positioning aid, stainless steel (V2A 1.40301), thickness 2 mm
Cenral ring 8LZ250-0235693
Nominal diameter: DN120
Surface area 1 specimen: approx. 1.0 dm2
Surface area 2 specimen: approx. 2.0 dm2
Filling volume central ring: 200 ml
Cenral ring 8LZ250-0342940
Nominal diameter: DN110
Surface area 1 specimen: approx. 0.95 dm2
Surface area 2 specimen: approx. 1.9 dm2
Filling volume central ring: 190 ml
Cenral ring 8LZ250-0218665
Nominal diameter: DN100
Surface area 1 specimen: approx. 0.75 dm2
Surface area 2 specimen: approx. 1.5 dm2
Filling volume central ring: 150 ml
Cenral ring 8LZ250-0342926
Nominal diameter: DN90
Surface area 1 specimen: approx. 0.6 dm2
Surface area 2 specimen: approx. 1.2 dm2
Filling volume central ring: 120 ml
Cenral ring 8LZ250-0218672
Nominal diameter: DN80
Surface area 1 specimen: approx. 0.65 dm2
Surface area 2 specimen: approx. 1.0 dm2
Filling volume central ring: 100 ml
Cenral ring 8LZ250-0218689
Nominal diameter: DN70
Surface area 1 specimen approx. 0.35 dm2
Surface area 2 specimen: approx. 0.7 dm2
Filling volume central ring: 70 ml
Cenral ring 8LZ250-018696
Nominal diameter: DN60
Surface area 1 specimen: approx. 0.25 dm2
Surface area 2 specimen: approx. 0.5 dm2
Filling volume central ring: 50 ml
Cenral ring 8LZ250-18702
Nominal diameter: DN30
Surface area 1 specimen: approx. 0.05 dm2
Surface area 2 specimen: approx. 0.1 dm2
Filling volume central ring: 10 ml
Attached files: